Wicknell Shares Dinner With The First Family After Blasting Minister Moyo
Harare businessman, Wicknel Chivayo, who left
Zimbabwe
for
Dubai
on Wednesday after attacking Professor
Jonathan Moyo
online, has posted photos of himself having dinner with Doctor Grace
Mugabe
and her son in
the United Arab Emirates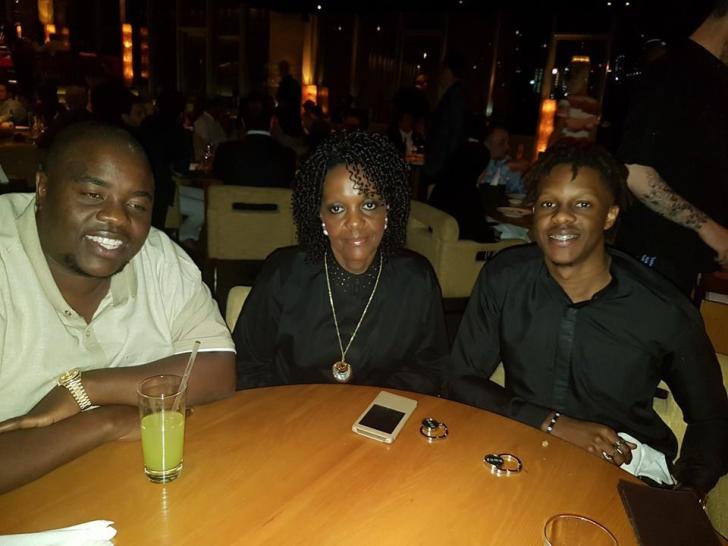 Wicknell Shares Dinner With The First Family After Blasting Minister Moyo
Wicknel told minister Moyo that "
MA
OFFICE ENYU HAACHA TYISA NEKUTI RINO DOKA GUSHUNGO VAKU RONGEDZESAI MAVA KUMBA MUKOMA...
TAKAZVIONA IZVI AMAI MUJURU VAI TSENGA MVURA ICHI BUDA MASVISVINWA asi nhasi kana kusangana navo HANDIVA MHORESE because I have no need to....
Wicknell Shares Dinner With The First Family After Blasting Minister Moyo
THE BIG MAN BEHIND YOU NDIYE ANE YESE MUGARE MAKAZVI ZIVA BOYZ DZANGU. HIS EXCELLENCY ROBERT GABRIEL MUGABE is the only reason why we respect you...."
Wicknell Shares Dinner With The First Family After Blasting Minister Moyo
On Saturday Wicknel shared the photos below and said: "HAD DINNER IN DUBAI YESTERDAY WITH MY MOTHER AND MY LITTLE BROTHER...I LOVE MY PARENTS....TEAM BOB FOR LIFE....MUNGANDI DII ??? HAPANA KANA ZVAMUNO NDIITA...."
Copyright © Search Zimbabwe.
All rights reserved.
Distributed by
Africa Metro
Global Media (
www.searchzima.com
). To contact the copyright holder directly for corrections — or for permission to republish or make other authorized use of this material,
Click Here.
Search Zimbabwe publishes around multiple reports a day from more than
40 news organizations
and over
100 other institutions and individuals
, representing a diversity of positions on every topic. We publish news and views ranging from vigorous opponents of governments to government publications and spokespersons. Publishers named above each report are responsible for their own content, which Search Zimbabwe does not have the legal right to edit or correct.
Articles and commentaries that identify Search Zimbabwe as the publisher are
produced or
commissioned by Search Zimbabwe.
To address comments or complaints,
Please Contact Us