Pope Francis Indicates Little Concern Over Condom Use In Fight Against Aids
Pontiff dodges contraceptive question while returning from Africa tour, arguing world is facing bigger problems, like housing shortages and malnutrition.
Pope Francis
has dismissed a question about whether condoms can be condoned in the fight against Aids by saying there are more important issues confronting the world, like malnutrition, environmental exploitation and the lack of safe drinking water.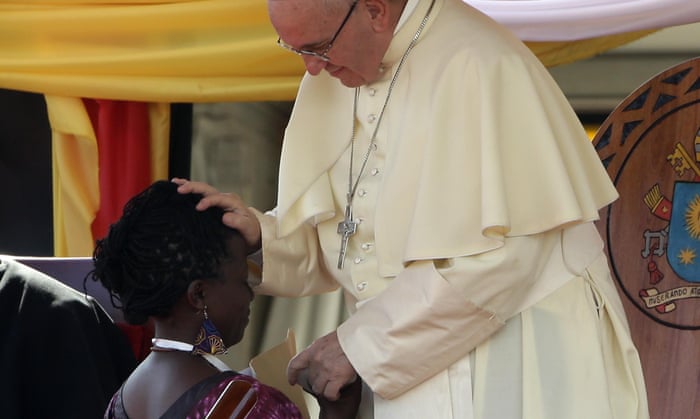 Winnie Nansumba, who was born HIV-positive, is blessed by Pope Francis in Uganda on 28 November. Photograph: Andrew Medichini/AP
Francis was asked about the church's opposition to condoms while returning Monday to Rome from
Kenya, Uganda and the Central African Republic
. Africa in general and Kenya and Uganda in particular have been hard hit by the Aids epidemic, and the Catholic church has faced criticism that its position has contributed to the problem.
Francis's predecessor, Pope Benedict XVI, earned the wrath of healthcare professionals, gay rights activists and the United Nations by saying on a visit to Africa that condoms were not the answer to fighting HIV and could
actually make it worse
.
Francis has made scant reference to Aids in his speeches this past week. He did, however, visit HIV-infected children at a Uganda hospital and kissed each one, listened to moving testimony from a girl born with the virus and thanked the church's healthcare workers for caring for those infected.
A clearly irked Francis criticized the question directed at him during his in-flight press conference about whether the church should change its position on condoms to limit HIV's spread. He said it "seems too small, partial", when there are bigger issues confronting humanity.
"I don't like getting into questions or reflections that are so technical when people die because they don't have water or food or housing," he said.
He said when those problems are taken care of, questions like condoms and Aids can be addressed.
Francis has previously signalled that he doesn't want to get drawn into culture war issues over contraception or abortion, and his response Monday was very much in line with such comments.
Francis was euphoric, though, about his first trip to
Africa
, saying he was constantly surprised by the continent and the ability of its people to find joy with so little.
He denounced how Africa has constantly been exploited by foreign powers, citing the slave trade and those who "only look to take Africa's riches".
"Africa is a martyr. It's a martyr of exploitation over history," he said. "I love Africa for this."
Copyright © Search Zimbabwe.
All rights reserved.
Distributed by
Africa Metro
Global Media (
www.searchzima.com
). To contact the copyright holder directly for corrections — or for permission to republish or make other authorized use of this material,
Click Here.
Search Zimbabwe publishes around multiple reports a day from more than
40 news organizations
and over
100 other institutions and individuals
, representing a diversity of positions on every topic. We publish news and views ranging from vigorous opponents of governments to government publications and spokespersons. Publishers named above each report are responsible for their own content, which Search Zimbabwe does not have the legal right to edit or correct.
Articles and commentaries that identify Search Zimbabwe as the publisher are
produced or
commissioned by Search Zimbabwe.
To address comments or complaints,
Please Contact Us