El Clasico: Real Madrid 0-4 Barcelona RECAP - Neymar, Luis Suarez and Andres Iniesta fire Luis Enrique's side to victory
Lionel Messi? Who needs Lionel Messi anyway?
Barcelona
sure doesn't. Or it didn't, anyway, when it systematically took apart archrivals
Real Madrid
4-0 on Saturday to win the biggest league game in soccer, El Clasico, for a fourth time in their last five head-to-head matchups in La Liga.
Luis Suarez
scored twice.
Neymar
and
Andres Iniesta
each did once.
Messi, the little Argentine virtuoso, didn't enter the fray until the 56th minute, by which point Barca was up 3-0. It was the first time since 2007 that Messi had missed even a single minute of the Clasico, as he was deemed insufficiently healed from the knee injury that has sidelined him since late September to start the game.
But Barcelona has gotten by just fine without him over the last two months, and then claimed its biggest win on Real's turf since 2009 and its biggest shutout there since 1974. Indeed, the win doubled Barca's lead over Real atop the league to six points after a dozen games.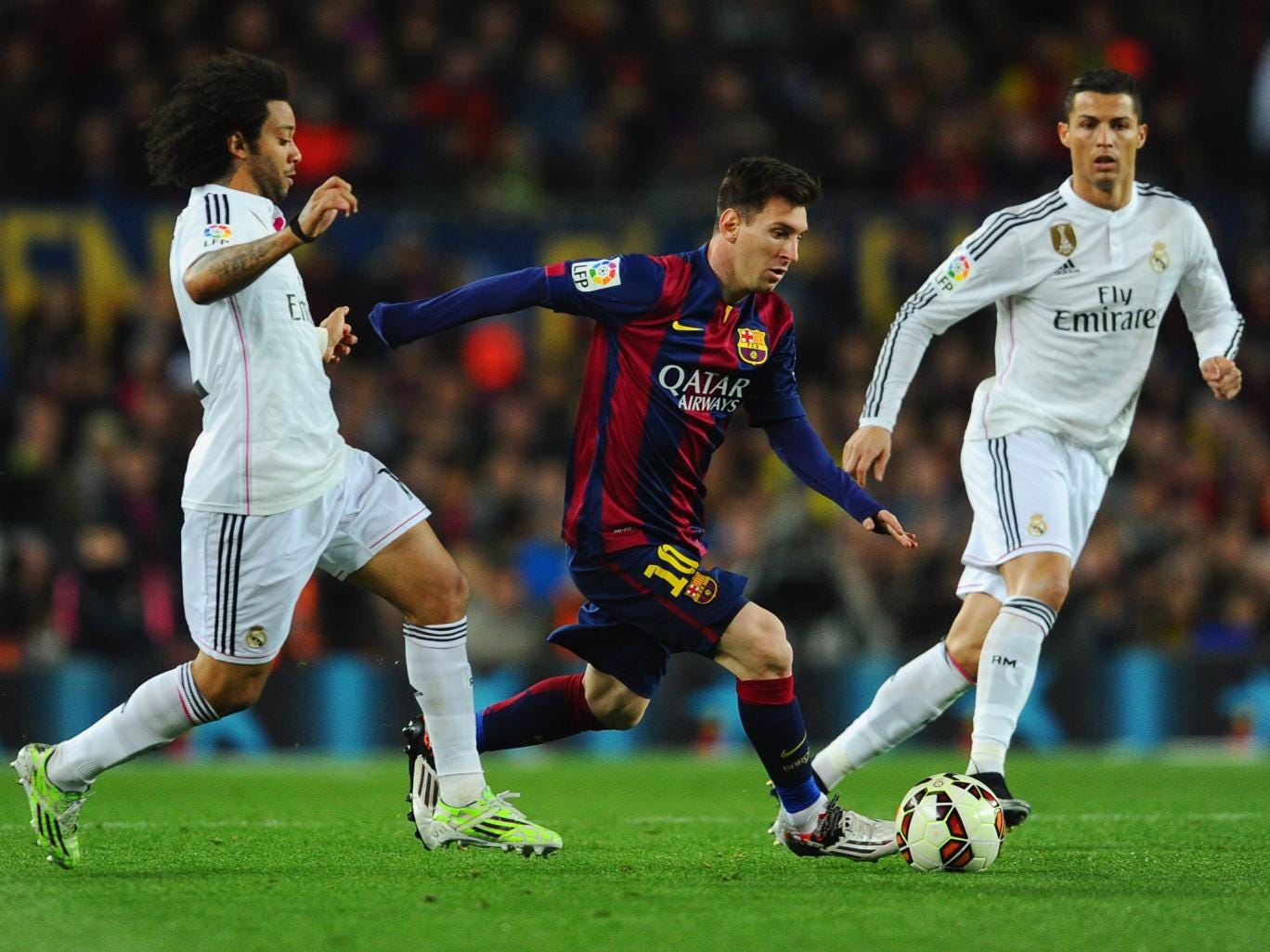 El Clasico: Real Madrid 0-4 Barcelona RECAP - Neymar, Luis Suarez and Andres Iniesta fire Luis Enrique's side to victory
Lately, Barcelona manager Luis Enrique has leaned heavily on forwards Luis Suarez and Neymar, who have flourished since they were promoted to the lead actors from their supporting roles. And while the Blaugranas remain a perilously thin team, the production of those two salvaged Messi's absence. They combined to score 19 of Barca's goals consecutively, until Iniesta scored the third against Real on Saturday.
For the lopsided score, this eternal grudge match at Real's Santiago Bernabeu stadium didn't disappoint, as it never does. In swirling winds, the challenges were physical and dirty from the first whistle, with Suarez in particular getting a regular kicking – perhaps in an attempt to tweak a player with a history of losing his cool on the field.
Both teams had significant issues heading into the game, with key players like
Sergi Roberto
and
Ivan Rakitic
for Barca and
James Rodriguez
and
Karim Benzema
on Real's side returning from injuries. And that's to say nothing of
the sextape blackmail scandal that has ensnared Benzema
in his native France.
Real began aggressively, and manager Rafa Benitez had set his side up with attacking on the mind, posting two playmakers behind four forwards. But after an energetic start by the home team, Barcelona quickly settled down into its hypnotic tick-tock, pass-pass-pass rhythm of possession. Soon enough, the Catalans started finding large cracks in Real's defensive veneer.
E

l Clasico: Real Madrid 0-4 Barcelona RECAP - Neymar, Luis Suarez and Andres Iniesta fire Luis Enrique's side to victory
In the 11th minute, Sergi Roberto capped a long spell of Barca possession that had involved every field player when he slid a splendid diagonal pass through the defense. It freed up Suarez when the defense focused on Neymar. The Uruguayan swept it into the far corner with the outside of his right boot. It had been 885 minutes since goalkeeper
Keylor Navas
had conceded a goal at home.
It's
@LuisSuarez9
that opens scoring. What a start for
@FCBarcelona
. 0-1
#ElClasico
https://t.co/OPabJzTsYQ
— beIN SPORTS USA (@beINSPORTSUSA)
November 21, 2015
Sergio Roberto got two more promising looks in quick succession as the masterful Andres Iniesta found much room to pull Real out of its shape, as Los Blancos were pushed too far upfield and spread too thin in midfield.
Real eventually managed to keep a little more possession, but found that all of the avenues to Barcelona's goal had been barricaded. And then, in the 39th minute, Iniesta dinked the ball through the line to Neymar, who was onside by an inch or so. The Brazilian coolly slotted it by Navas to double the score.
.
@RealMadrid
0,
@FCBarcelona
2. Halftime highlights.
#ElClasico
https://t.co/FFcfYgas2B
— beIN SPORTS USA (@beINSPORTSUSA)
November 21, 2015
On the brink of halftime, the backheel flicks started to come out when Barca grew as concerned with winning as making a point in this century-old rivalry between regions that have an enmity that's just as long in the tooth. And Barcelona almost got a third before the intermission, as Neymar and Suarez combined their way through. But
Marcelo
's diving header saved it off the line.
Real Madrid again threatened early in the second half. But Barca ended the game well and truly by the 53rd minute. Iniesta played the ball into Neymar at the edge of the box, who returned the ball with a soft backheel that teed the captain up to lash the ball into the upper 90.
AND
@andresiniesta8
adds the THIRD! What. A. Golazo!
#ElClasico
https://t.co/hTBaT7Otpf
— beIN SPORTS USA (@beINSPORTSUSA)
November 21, 2015
The two sides exchanged chances for a spell, but Barca's net-tender Claudio Bravo prevented a comeback with a point-blank parry on Cristiano Ronaldo, the umpteenth of many strong saves throughout the game.
Finally, in the 74th minute, Barca twisted the knife. Messi played a ball out of traffic to Sergi Roberto, whose quick flick played Suarez into space. He chipped Navas simply for his second of the day.
Because three was not enough!
@LuisSuarez9
freezes
@navasKeylor
for his second of the night.
#ElClasico
https://t.co/0R53mKJwtT
— beIN SPORTS USA (@beINSPORTSUSA)
November 21, 2015
Real, embarrassed, grew even chippier. Daniel Carvajal was sent off late for a cynical kick at Neymar's knee. And a few more clear chances were missed on both sides.
In the dying minutes, the Bernabeu quickly emptied. After the final whistle, as Barcelona celebrated, those home fans that remained whistled in disgust. They waved the dreaded white handkerchiefs for the unpopular Benitez, who is just a few months into the job, signaling the Real fans' vote of no confidence.
After all, if they couldn't even compete with a Barca side that was without Messi for the most part, how well could that possibly bode for the rest of the season, or for the second time these two meet this season, in Barcelona on April 3?
Because Barcelona didn't even need Messi.
Copyright © Search Zimbabwe.
All rights reserved.
Distributed by
Africa Metro
Global Media (
www.searchzima.com
). To contact the copyright holder directly for corrections — or for permission to republish or make other authorized use of this material,
Click Here.
Search Zimbabwe publishes around multiple reports a day from more than
40 news organizations
and over
100 other institutions and individuals
, representing a diversity of positions on every topic. We publish news and views ranging from vigorous opponents of governments to government publications and spokespersons. Publishers named above each report are responsible for their own content, which Search Zimbabwe does not have the legal right to edit or correct.
Articles and commentaries that identify Search Zimbabwe as the publisher are
produced or
commissioned by Search Zimbabwe.
To address comments or complaints,
Please Contact Us